I've had quite a few requests for a peek into our diapering routine, so yesterday I used every type of diaper we're currently using and snapped some photos for the curious. My little model was having a pretty good day so he made it easy for me. Here I'll outline the 4 types of dipes we've got going now, and some of the pros and cons of each. I took a pic of each one both off and on the baby, so you can see what they all look like. Cloth diaper jargon will be in bold italics, just like those vocabulary words in your public high school textbooks, so grab a highlighter and trapperkeeper and settle in for a day in the life of DB, Mompyre and the poopcatchers.
Prefolds and Covers:
OsoCozy Brand
. These are one step above
flats
, which I have, but have not worked up the motivation to use, and one step below
fitteds
, which we have but are too big yet, on the easy scale.
Flats, fitteds,
and
prefolds
will all still need a
diaper cover,
since none of them are waterproofed on the outside.You'll still have to fold them a little to put them on baby, but that's kinda cool because it makes them customizable a bit for your child, boy or girl, etc. There are quite a few ways to fold them, we're currently loving the "twist", we just lay DB on the diaper, pull through his legs, give a twist, then wrap the corners around his waist, creating a lot of absorbency in the front for the boy, but girl mommies could make the twist lower to suit.
No more fastening with
pins
these days, unless you just want to, we use a
Snappi
, they're cheap, and work kinda like those fasteners you find with ace bandages, stretchy in the middle with little teeth on the end, they go from hip to hip and down to the crotch.
The
diaper cover
I'm using here is a
Thirsties Duo Wrap Snap
, it's adjustable to keep you from having to buy one for each size, this one goes from 6-18 lb. We love the brand, we have six of the size one and we'll buy the next size up when we need them. If the cover is a bit wet on the inside, I just wipe it out when I change the dipe. The legs are gusseted to keep poo in the cover if it escapes the
prefold
, which it does about 30% of the time, but it's never escaped the cover for us so far *knocks on wood*, so I'm pretty happy!
Pros:
Inexpensive, really absorbent, customizable
Cons:
Takes some practice, a bit complicated, several pieces needed
All-In-Ones (aka AIO's):
These are the
easiest to put on and to sort out of the laundry, that also makes them the most expensive. They have a waterproofed outer layer and then sewn in absorbent layers in the middle with a soft liner.
We have 4, the one photographed is
BumGenius
brand, and we also have a
SposoEasy
brand. Both of ours are size specific, but they also come in one-size models where you use a series of snaps to expand the diaper as your child grows.
We mostly use these for the diaper bag, since the changes go faster with these, and nobody wants a long and drawn out public diaper change! With these
AIO's
and the
pockets
I get some "wicking" if DB's onesie comes in contact with the soft liner instead of the waterproof outer around the leg gusset area, but that seems to happen less with the BumGenius, could be how they fit? Every baby's different! The BumGenius brand has shown to be super absorbent, in an experimental example, it held easily a half-cup of water.
Pros:
Easy, most like a disposable, not intimidating for other care-givers (babysitters, family, etc.)
Cons:
Expensive, can be difficult to find the right fit for your baby, takes a long time to dry on laundry day
Pockets:
On the easy scale these are just one step below AIO's. They are still a waterproof outer with a soft liner, but the absorbent part is an insert that you remove for washing and when dry, stuff back into the pocket between the two. Best of both worlds! They dry faster than the AIO's, and since you can stuff the diaper before the change, they're fast too. We have 6 of these right now, the one in the photograph is a FuzziBunz, we also have a Happy Heiny's and a Monkey Snuggles.
Pros:
Easy, dries fast on laundry day, not intimidating for other care-givers (babysitters, family, etc.)
Cons:
Expensive, can be difficult to find the right fit for your baby
Hyrbids(aka AI2's):
These are a blend between disposables ('sposies) and cloth. They are made up of a shell which is waterproof and have the option for a washable or flushable/biodegradable liner. We haven't used the biodegradable liner for ours yet, but we're planning to try them out on a family trip to the mountains this summer. The shells wash and dry easily and quickly so they'll be perfect for hand washing and sun drying. The ones we use are GroBaby (Now branded as GroVia) , and there is another well-known brand of Hybrid called gDiapers, I chose not to try them but some parents really love them, so they're nice to know about, and they've become more mainstream, my Babies-R-Us carries them in store.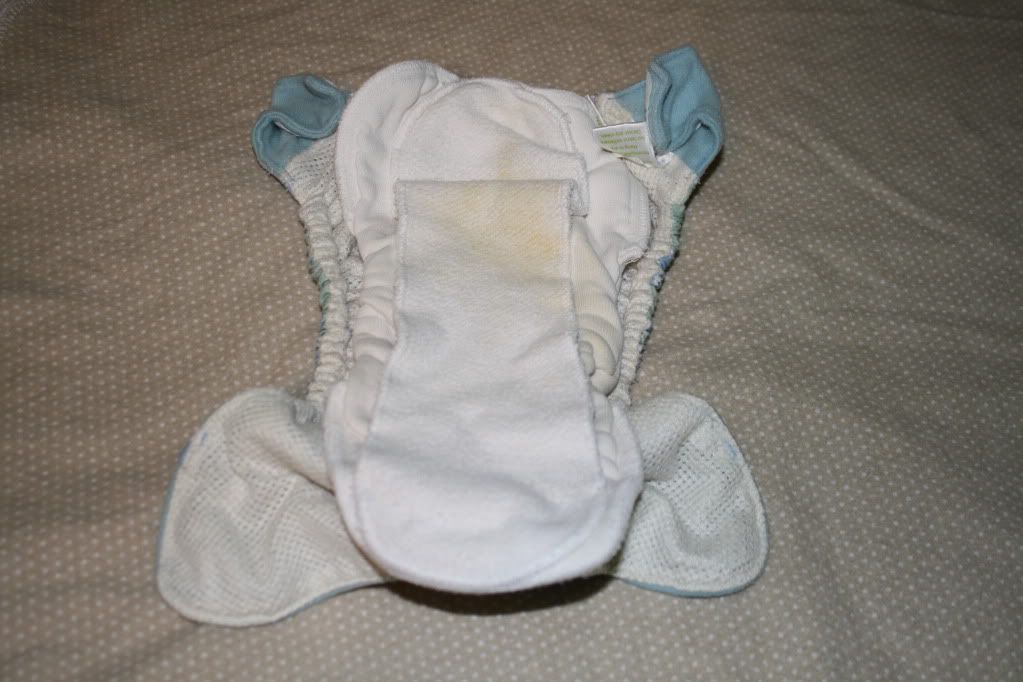 I love the GroBaby's for traveling because they are trim and you usually only have to change the snap-in washable insert, so that means I can fit enough for 6 diaper changes comfortably in the diaper bag and they don't take up too much space in the travel wetbags! These are one size fits all with a series of snaps to make them bigger in the rise and stretchy waist with aplix to fasten. I'm a big fan and can't wait to get a few more sets. Right now we have 3 shells and 6 inserts.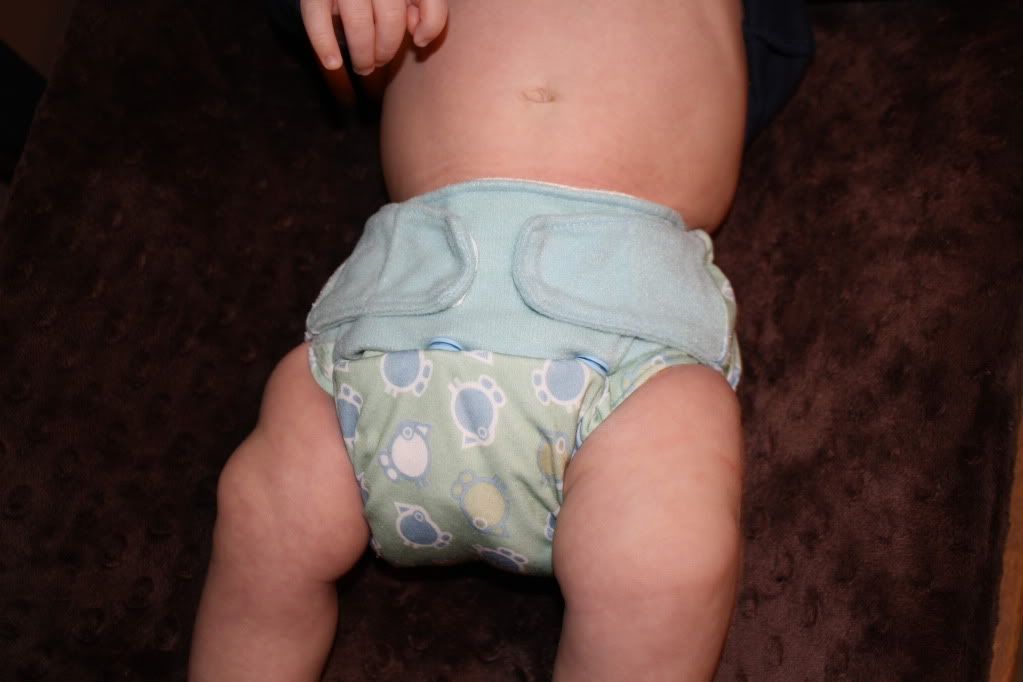 Pros:
Trim, easy, shells dry quickly, flushable/biodegradable option
Cons:
Expensive, fit may not work for all babies, inserts for GroBaby "smell" wet to some when wet
Now for all the other questions!
What about wipes? For wipes we use regular terrycloth baby washcloths, color coded in our house so we know which are wipes and which are for bath times. We use a peri bottle to spray a little wipe solution on the cloth before wiping, you can make your own, there are lots of recipes out there, or you can buy some online, I like this kind, made by a work-at-home mom and sold in little dissolving pieces, great price for the amount they make and they smell so good!
Punkin' Booty Bits
wetbags
by
Kushies
that go in the diaper bag for on the go changes, and a large hanging wetbag by
Planet Wise
in the nursery. All the wetbags
can go right into the wash with the diapers. They are very good at holding the messy dipes and the smell stays in, even with the bag not zipped shut. So easy!
What is laundry day like? We wash every 2 days on average. This leaves plenty of diapers in the clean stash on wash day so we're not panicking for clean ones while trying to get the others clean and dry! The laundry ritual is very easy. Breast milk poo is water soluble so no rinsing happens in our house yet, all the diapers and wipes go in a cold short cycle with no soap, then a long hot wash with two rinses and half the recommended soap to cut down on residue, which could make diapers stinky. Covers and small wetbags go on a hanging rack to dry, everything else goes in the dryer with no dryer sheet, usually they get dry with one cycle, sometimes AIO's need to go again.
That's everything I was asked, I think, and everything I can think of! If you've got any other questions, even just curious ones, I'm happy to answer! Hope that's what you were looking for, blog requesters!